In addition to the billions of human beings using social media, there are also millions of robots, or bots, residing within. Bots help to propagate fake news and inflate the apparent popularity of fake news on social media.
Social media platforms (Facebook, Twitter, Instagram, etc.) have become home to millions of social bots that spread fake news. According to an estimate in 2017, there were 23 million bots on Twitter (around 8.5% of all accounts), 140 million bots on Facebook (up to 5.5% of accounts) and around 27 million bots on Instagram (8.2% of the accounts). A hundred and ninety million bots on just three social media platforms – more than half the number of people who live in the entire USA!
In the summer of 2017, a group of young political activists in the United Kingdom figured out how to use the popular dating app Tinder to attract new supporters. They understood how Tinder's social networking platform worked, how its users tended to use the app, and how its algorithms distributed content, and so they built a bot to automate flirty exchanges with real people. Over time, those flirty conversations would turn to politics and to the strengths of one of the U.K.'s primary political Parties.
This issue though could be even more dangerous when coupled with technology that can repurpose video and perfectly copy a persons voice, or even create an entirely false person. The technology already exists where anyone could be made to say or do anything on film and it looks completely believable.
So how can we ever know we are being manipulated when even seeing is not believing?
Using AI for good
It is easy to blame AI for the world's wrongs (and for lost elections) but the underlying technology itself is not inherently harmful. The algorithmic tools that are used to mislead, misinform and confuse could equally be repurposed to support democracy.
We can, for example, programme political bots to step in when people share articles that contain known misinformation. They could issue a warning that the information is suspect and explain why.
Which brings us to today's #AGICHAT question 'How can we protect our voting systems from AI bots and fake news?'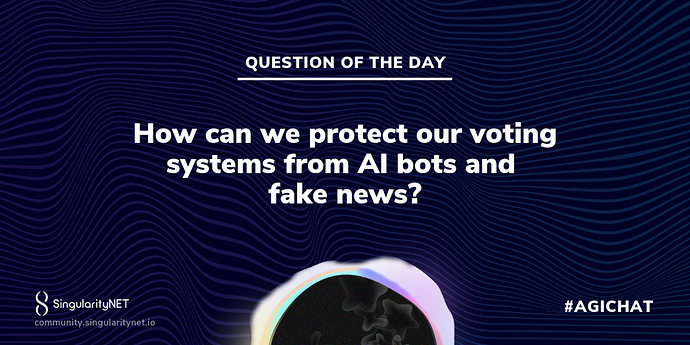 #AGICHAT #futurism #artificialintelligence #debate #singularitynet #emergingtechnologies #futureofpolitics