Hello Fellow Singularitarians!
2022 has started off at a run at SingularityNET, there is so much going on already. Let's get to what will be covered in this roundup…
First →

2021 End-of-Year Project/Spin-Off Updates
Second →

Ecosystem Roundup - bite-size updates around the Platform and Ecosystem
Third →

Voting for the Catalyst Fund7 "SNET-Cardano Challenge" starts January 20
          ----------------------------------------------------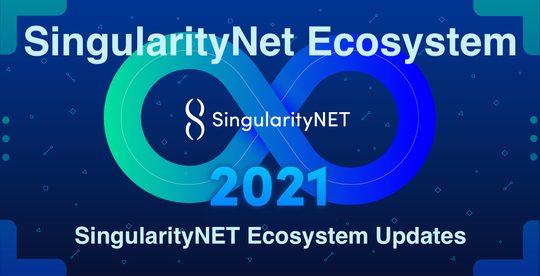 The 2021 End-of-Year Roadmap Updates
The first series of updates covered all the spin-offs, plus a pair of DEEP candidates. These updates look at the project achievements, milestones, and big accomplishments through the end of last year…and a peek at what comes next for each project -
Shortly we'll be releasing a series of updates from the SingularityNET internal teams, including: Platform Engineering & Development, the Blockchain Team, HR, UX/UI, OpenCog, Marketing…and more.
          ----------------------------------------------------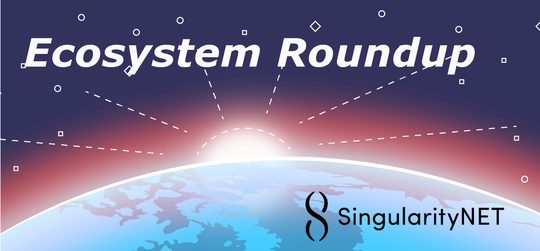 SingularityNET Ecosystem Roundup
Here are a few bite-size updates from around the SNET organization and ecosystem:
NuNet and SNET's Blockchain/Smart Contract and Platform Development teams are making final preparations and verifications for the upcoming NTX airdrop (registration will be required and opens January 20)

SNET Platform Developers have completed the initial licensing updates for the Marketplace - UI/UX designs for the Marketplace Dapp are completed. The licensing server will now be shipped along with the SNET Daemon releases going forward.

The Rejuve App has been released internally to the team, as a private alpha, and is gathering lots of great feedback. Rejuve has also been working with the SNET Blockchain/Smart Contract team on developing the data and product NFTs. The public beta app will be the next milestone, stay tuned.

The SNET Legal team has been making a big push to update, organize, standardize and templetize contracts across the ecosystem, putting smoother systems in place for contract creation and management.

SingularityDAO Dynasets were launched on December 20th , and recently released their first live results; as of January 11, compared to hodling the respective coins (BTC, ETH, or AGIX/SDAO/NTX), dynBTC is up 13.32%, dynEth is up 13.32%, dynSING is sort of indeterminate at the moment - and has highlighted the need for a better metric for defining alpha on a multi-asset token, which will be an excellent challenge.

HR will be starting to advertise for internships within SingularityNET in February. If you are a student, or know a student, who would like to intern in SNET, have them apply by February 6th!

Jam Galaxy is making major preparations in the month of "Jamuary" - there are exciting news and details coming soon!!

The SNET Blockchain & Smart Contract team has begun working on the Mindplex utility token contracts; and Mindplex just onboarded their new UI designer, to design and develop the Mindplex frontend experience.

SNET Marketing has been busy generating and releasing 10 spin-offupdates for end-of-year 2021. The team is expanding by 5+ new marketing team members in the next few weeks, in anticipation of the incredible ecosystem growth planned in 2022.

The OpenCog Minecraft demos are making very interesting progress. One demo is of the early Hyperon development, one is of temporal reasoning in AI agents using OpenCog classic. Plans for structuring a community demo of these developments are underway. The demos are very early and still basic, but the OpenCog team is excited to share this progress on the new Hyperon system.

TrueAGI is gearing up its marketing and communication efforts, with a planned series of updates, and will be releasing more project details

Partnerships Management has gotten their new CRM system up and running, and will be providing training for project leaders to input and maintain their current partnerships.

        ----------------------------------------------------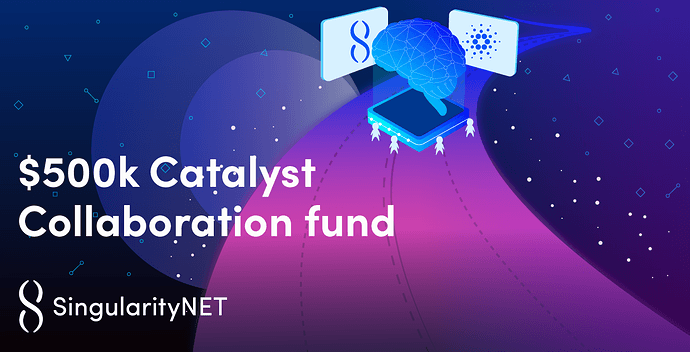 Catalyst Fund7 SingularityNET-Cardano AI Collaboration Challenge


Do you know what projects you will vote to add to the SingularityNET platform?

The entire community is encouraged to get involved, and support all these great projects, and shape the future of SingularityNET.
Check out this video series highlighting 20 of the proposals for the SingularityNET-Cardano collaboration with AI challenge.
See the full list of proposals at the Challenge Website
You can vote for as many projects as you want!
Join the Fund7 Telegram group to discuss what you find inspiring…and remember to vote!
These projects are just a taste of what we can look forward to when DEEP fund launches later this year.
          ----------------------------------------------------

Share this update, and join the SingularityNET Telegram Channel and share your enthusiasm with the community! See you there…