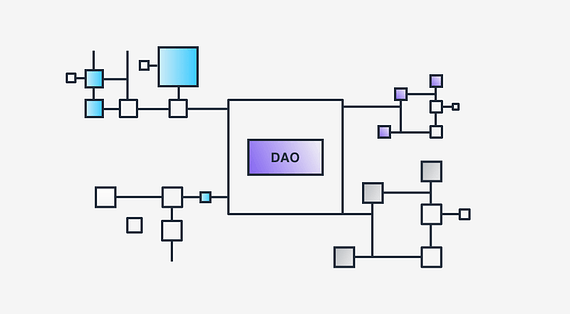 Blockchain technology is being hailed as the enabler of great things to come. At the heart of the blockchain technology are "smart contracts." Smart contracts are, in layman's terms, pre-programmed rules that describe the activities of a system. Among other things, smart contracts can be used to effectively "run" a system on its own. This means that we can set rules like a computer program and the system will run on its own. The only difference here is that the "system" is far bigger and exponentially more complex than a computer. Here, the system is an entire government!
The earliest experiment to create a decentralized autonomous organization (DAO) started and, unfortunately, failed in 2016. In fact, its success would have been hard to imagine so its failure did not come as a shock. However, it laid the foundation for the idea that this could work. What was needed was to make the idea more robust and more foolproof. A DAO was created with a set of pre-defined rules using smart contracts on a blockchain. Anyone with an internet connection can join the DAO. All DAO participants are given DAO tokens. The participants can then vote on which projects to "fund." If I have a unique program that can help the DAO grow and prosper, I can put forth my "proposal" in front of the DAO participants. If participants find value in my project, they will "crowdfund" my project with DAO tokens. This means that a DAO funds its own growth and everyone is accountable to it.
A DAO is a unique way to guarantee democracy cryptographically where all "partners" (participants or stakeholders) can vote on adding new rules or change existing rules and create consensus (like voting in a democracy) to fund projects or for any other activity that pertains to the betterment of the DAO.
So why did the initial experiment with the DAO fail? Security. At the heart of a DAO is an immutable code. So once the smart contracts are deployed onto the blockchain, they are difficult to change. This is good, to an extent, as a single person cannot tamper with the rules. However, if there is a bug and it gets discovered, it becomes extremely difficult for developers to change the code. The first DAO was hacked and attackers syphoned off millions of dollars. The lead developers at Ethereum, however, reversed the transaction history to return the funds to their legitimate owners. But this action created a rift in the community and the project collapsed.
The failure notwithstanding, the basic idea behind a DAO is too exciting to be shelved as a dream. With technological advancements and more robust security measures, this can become a valid idea to run an organization, even a government, without human intervention. What can this do? It can free up precious resources that can be used for the betterment of citizens by providing utility services to the people.
Problems and hiccups will arise and naysayers will abound. But the future is nigh. We are here to witness something radical. The fall (or maybe an evolution of a Westphalian State) and a complete overhaul of the governmental system is inevitable. Equality in the truest, most unadulterated, sense of the term will become a reality.
History is replete with stories that tell us how technological advancements made human imagination possible. If we imagine a governance model, howsoever inadequate it might seem now, rest assured that it is only a matter of time before technology makes it possible. Democracy on a blockchain is very much possible.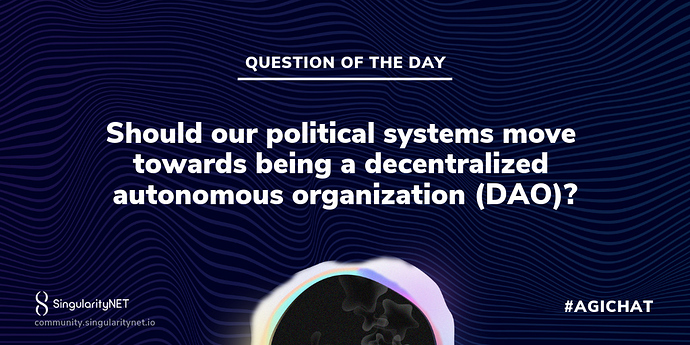 #AGICHAT #futurism #artificialintelligence #debate #singularitynet #emergingtechnologies #futureofpolitics